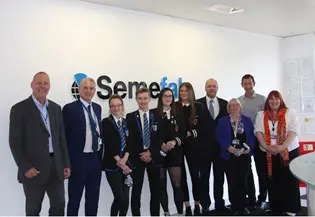 Semefab launches STEM partnership with Glenrothes Secondary Schools
Semefab are proud to announce the launch of a partnership with the 3 local high schools in Glenrothes: Auchmuty High School, Glenrothes High School and Glenwood High School. As well as working with all three schools, Semefab will be providing two new annual awards for each school: the Semefab STEM Excellence Award for National 5 level and the John Bruce Memorial Award for those studying at Higher/Adv Higher level. This has been made possible with the support and encouragement of Fife Council's STEAM learning team – Karen Doherty and Nicola MacKinnon.
The awards will be made based on excellent achievement in 2 or more STEM subjects ie those related to Science, Technology, Engineering and Mathematics, to include at least one in either Physics or Chemistry.
The date of the launch is significant to Semefab as today is the first anniversary of John's passing. John was a founder member of Semefab in 1986, a PhD Chemist and Semiconductor Process Engineer. Over the years John rose in the business to become Joint Managing Director responsible for day to day operations, engineering and new product introduction, embracing the associated design and development activities.
He was passionate about the STEM subjects, with Physics and Chemistry being his focus. Always up for a challenge, John was very results and achievement oriented. He was well respected by customers, suppliers and his peers alike for his analytical abilities, his tenacity, eye for detail, and meticulous record keeping, all delivered with fair mindedness, humility and a sharp wit if the occasion deserved.
By introducing the John Bruce Memorial Award, we are hoping to capture John's passion and enthusiasm for these subjects and life in general and share our experiences with students just starting out on their STEM journey.
To support students further, Semefab is looking to work with the schools to help raise the profile and students' interest in the STEM subjects by exploring how the knowledge in these subjects is applied and used in an industrial manufacturing setting.