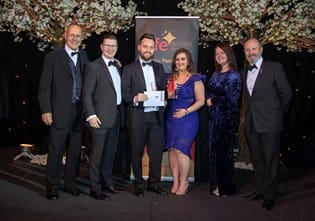 Kingdom FM, winner of Best Marketing Campaign, sponsored by Semefab
Semefab were proud to be present at this year's Fife Business Awards as sponsors of the 'Best Marketing Campaign' with Managing Director, Allan James also on the Judging Panel.
This year's Awards were held at the Rothes Halls in Glenrothes and saw a fantastic turn out from the local business community with host Fred MacAulay's quick wit and humour, mustering many a chuckle!
Throughout the event guests were kept entertained with performances from super saxophonist Konrad Wiszniewski, the brilliant tenor, Richard Knight and the fantastic Wireless who filled the dancefloor into the wee, small hours.
The Best Marketing Campaign Award, presented by Allan James, Managing Director of Semefab, was won by Kingdom FM, an Independent Local Radio station based in Kirkcaldy. Blair Crofts, Managing Director of Kingdom FM commented:
"Winning Best Marketing Campaign for 'Win Your Wedding' at the recent Fife Business Awards, is a huge honour for everyone involved in the campaign. It allowed us to showcase all that's great about local radio to deliver a once-in-a-lifetime prize to a local Fife couple worth over £15,000. We are extremely proud to receive the recognition for our hard work and commitment that all our talented staff put into the campaign to make it such a great success".
The most important part of the evening saw 12 Fife-based businesses and two inspiring individuals, competing against some truly global opposition, recognised, rewarded and celebrated. A sure demonstration that Fife businesses are ambitious, modern and progressive. There wasn't a soul in the room who wasn't proud of that.