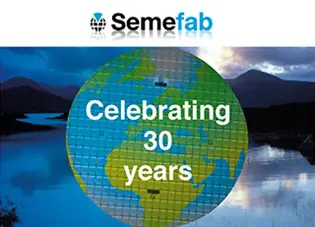 In 2016, Semefab celebrates 30 years of silicon chip manufacture.
The company was founded in 1986 by Allan James - current Joint Managing Director and Stephen Sverdloff - founder of Semelab PLC, now owned by TT Electronics. In 1982, Allan had moved to Scotland to become fab manager at General Instruments, an inward investing USA semiconductor manufacturing Corporation. However in 1985 it became apparent that GI were having difficulties and early in 1986, they announced closure of their plant in Glenrothes. This became the focus for Allan and Stephen to initiate a new semiconductor company. Allan had extensive experience in wafer fabrication engineering and manufacture from his time at Mullard–Southampton, ITT -Sidcup, GEC Hurst Research -Wembley and Marconi Electronic Devices, MEDL in Lincoln. Stephen had built a successful semiconductor power switching and power control company in Lutterworth with a focus on Mil/Aero High Reliability products. Most of their silicon devices came from SGS and Texas instruments wafer fabrication facilities at the time. However there was a pressing need to ensure continuity of supply of semiconductor components built into High Rel applications well into the future which could not be guaranteed other than by having direct access to wafer fabrication. So it was that Allan and Stephen came together to create Semefab.
The closure of General Instruments enabled Allan to put together a team of equipment, facilities and process engineers with the necessary skill set. This initial team included John Bruce - current Joint Managing Director and Chris Spittal - current Senior Equipment engineer.
First the task was to rebuild one of the 4 inch wafer fabrication facilities to operate in a more energy efficient manner without compromising on standards of cleanliness. This first task took 18 months, during which time a technology licence with GEC was obtained to produce Bipolar Power transistors. Shortly after the engineering team concentrated on establishing a metal gate CMOS capability similar to the technology GI had run, and Semefab was successful in winning its first major award of business in producing telephone dialler IC's for SAMES in South Africa.
Some of the operators from those early years are still with the company, notably Nancy Peggie who has just received her 30 year award and Mary Aitken.
From then on there has been no looking back, and Semefab's history has been one of expanding technical capabilities, introducing and inducting new technologies, building a well diversified international customer base and developing on the original single site through acquisition of adjacent properties.
Some Key Milestones have been:
1986 -formation, 1988 First power transistor, 1989 First CMOS IC, 1990 Watch chips for Swiss Watch industry, 1991 First Si Gate CMOS devices, First ASIC, 1992 First Automotive ASICs, 1994 Licensed 1GHz RF PowerMOS technology, Queen's Award for Export, 1995 Commenced Di BiCMOS precision analogue foundry, 1996 Acquired Seagate 40V & 60V Linear IC technology and designs, 1997 Acquired Building 2 for Probe &Test expansion, 1999 Licensed Advanced Power Technology Corp PowerMOS technology, 2000 First MEMS pressure sensor foundry, Queen's Award for Enterprise, International Trade, 2001 First thermopile manufacture, Fife Business Award winner, 2002 First Gas Sensor Foundry, 2003 First Chinese customer, 2004 >100M JFET for PIR market, 2005 Built Fab 2 MEMS, 2006 Major UK MNT Award winner £6.8M, 2008 Enhanced Fab 2 for 6 inch, Acquired adjacent building for Fab 3, 2011 Built Fab 3 6 inch MOS Bipolar, 2015 First Medical MEMS device, exceed 250M die/devices p.a. 2016 >50M light sensors for CCTV market, Fife Business Award Winner.
Today Semefab employs 100 people, operates 3 wafer fabrication facilities, builds discrete semiconductor devices, IC's including own designed ASICs and Micro Electronic and Mechanical Systems, otherwise known as MEMS sensors. Main activity is devoted to foundry where Semefab runs customer specific processes and designs
It is this latter area which is providing much of the current interest in Semefab's capabilities. Fab 2 has been built and equipped specifically with MEMS sensors in mind and we see growing demand for applications related to 'the Internet of Things' - especially in healthcare, fitness and well being.
And with the additional capacity that Fab 3 brings, Semefab is well positioned to take advantage of this exciting future.
Today, over 80 percent of product is directly exported to Europe, Asia and USA.